24/7 Emergency Water Damage Restoration and Water Damage Repair
If you've suffered from water damage and need water damage repair, it's comforting to know that you're in good hands. Our network of technicians is here to help. They use proven water mitigation and drying techniques and state-of-the-art water remediation equipment to help preserve your belongings and minimize structural damage to your property.
Our team is known for careful attention to detail, so they know how to extract the water without damage. Our expert team is skilled with advanced water extraction methods and technologies that allow them to plumb, pump, clean, and dry your property quickly while using minimal resources and energy.
Our technicians will work with you from start to finish—from assessing the damage caused by flooding to providing a local quote for water damage repair services to completing your job site. They pride ourselves on our commitment to excellence in every aspect of our business—from customer service down!
Water damage restoration usually involves the following steps:
Assessment – a thorough assessment of the affected area to determine the extent of damage and the type of water (clean, gray, or black).
Emergency services – any immediate actions necessary to prevent further damage, such as turning off the water source and removing standing water, are performed.
Water extraction – excess water is removed using specialized equipment such as pumps, wet/dry vacuums, and extractors.
Drying – the affected area is thoroughly dried using dehumidifiers, air movers, and other equipment to remove moisture from walls, floors, and other affected areas.
Cleaning – the affected area is cleaned and disinfected to remove any bacteria, mold, or other contaminants.
Restoration – once the affected area is dried, any necessary repairs or restoration work, such as replacing drywall or installing new flooring, is performed.
Monitoring – the drying process is closely monitored to ensure that the affected area is dry and free from moisture.
It is important to note that every water damage repair situation is unique, and the steps may vary depending on the severity of the damage and specific conditions of the property.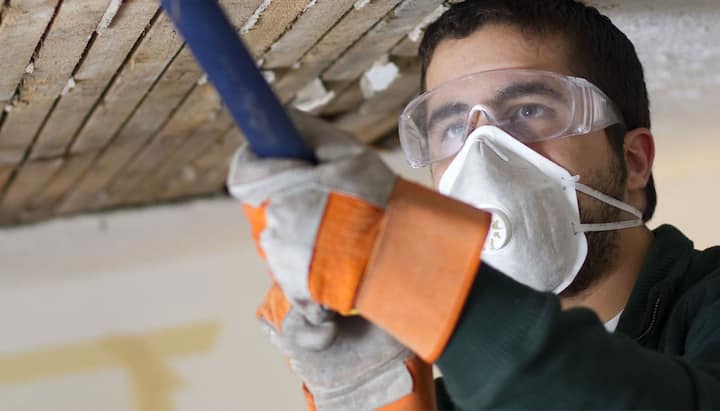 Get in Touch With Us
Contact Joliet Professional Restoration today, please give us a call or complete our contact form! We will be more than happy to discuss your Water Damage concerns and help you find the solution.
Mold remediation during water damage restoration
Mold is a common problem after water damage and is dangerous if not promptly addressed. Mold can appear as black, green, or white spots on surfaces and has a musty odor.
Before beginning any mold remediation, it is vital to protect yourself with gloves, a mask, and eye protection to prevent exposure to mold spores. You can remove small areas of mold using a solution of water and detergent. However, large spots may require professional remediation.
It is crucial to avoid spreading mold spores during removal, so areas with mold should be blocked off. After mold removal, any damaged building materials, such as drywall or flooring, should be replaced to prevent mold growth. It is vital to address the source of moisture and ensure proper ventilation in affected areas. Some types of mold can be toxic, and experts recommend professional remediation for any mold growth. Additionally, it is always wise to have a professional inspect the damage to determine the right action.
Mold identification and age
Identifying different types of mold can be challenging, but there are a few key things to look for:
Color – different types of mold can range from white to green to black; common types include white or grayish-looking powdery mildew, black mold, and green mold.
Texture – texture can indicate what type of mold it is; for example, black mold often has a velvety or fuzzy texture, and mildew is powdery and dry to the touch.
Location – location can also indicate what mold it is; some molds are more common in areas with high humidity, such as the bathroom or basement, while others grow in areas with water damage.
How long the mold has been on the premises is essential for restoration because it affects the methods used. To determine if mold is new or old, you can look at a few factors:
Age of the building – if the building is older, there is a higher likelihood that the mold is older.
Growth rate – spores grow fast, especially in high humidity and moisture. If the mold has spread over a large area, it may be newer.
Discoloration – old mold often turns yellowish or brownish, while newer mold will be darker and fresher.
It's important to note that mold should be removed by a professional, regardless of whether it's new or old, as it is a possible health risk if not handled properly.
The urgency to repair basement flooding
Basement flooding is a common occurrence in the United States. It's so common that over one-third of all homes have experienced basement flooding at least once. The causes of basement flooding vary greatly, but they can typically split into two categories: water intrusion and water damage. Basement flooding is a common occurrence and can be complex to repair. However, there are some steps you can take to prevent the problem from happening in the first place.
Foundation integrity– Check your home's foundation and ensure it's not settling or shifting. If it is, you may need to hire a structural engineer to come out and look at what needs to be done to secure your foundation's integrity.
Leaks – Leaks from appliances or faulty plumbing can lead to flooding if not caught quickly enough, so look for signs of water damage as soon as possible after noticing any leakage.
If you live in an area with freezing winters, ensure no cracks in the foundation where ice could form over time. That way, there will be less chance of flooding occurring during cold temperatures! Be sure that any plumbing fixtures in your basement are installed and maintained by a professional plumber who knows what they're doing—if not, an overflowing toilet could cause severe damage in no time!
Ceiling water damage repairs
Our team's expertise and equipment allow our network to effectively address ceiling water damage and complete repairs promptly and efficiently. Water damage is an all-too-common problem, and it can leave you in a world of hurt if you're not careful. Fortunately, our teams understand the importance of handling your water damage restoration needs professionally and quickly.
Our team has years of experience dealing with ceiling water damage, from drop tile ceilings to plaster to crown molded ceilings. They know what it takes to get your home back in working order soon. Our pros use specialized training and equipment to repair your ceiling water damage as quickly as possible our work is to every client's satisfaction; you can rest assured that we're doing everything possible to ensure each job gets done correctly.
When floodwater enters an area lacking proper drainage systems, extensive damage and personal injury can occur; falling debris and mudslides threaten personal safety and potentially block emergency vehicles from reaching victims.
Experience the difference in quality
No one wants to think about their house being damaged by water. But with the right tools and experience, it is preventable! Our partners are premier water damage restoration companies with several years of experience. Our 24-hour emergency service is here to help you get back to normal as quickly as possible.
Our team is fully equipped with the tools and knowledge to treat every client with the same empathy they would want if they faced water damage in their own homes. We'll even send you a handy guide on how to prevent the problem in the first place. They treat every client like a friend: with empathy, respect, and professionalism. We're not here to make money; they want to help our clients feel safe in their homes again.
Our expert technicians have training in water extraction systems, mold remediation, and ventilation services, so they can quickly assess your water damage restoration needs and begin restoring it as soon as possible. They also use technology like infrared and thermal imaging cameras to ensure every water damage repair is done correctly before moving on to the next stage of restoration.
Our pros don't just talk about our services; they provide them! Contact our network to prevent this disaster from occurring again at your property or home!